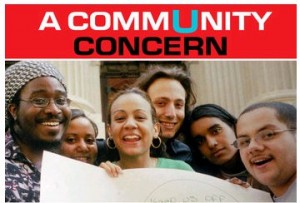 Students, Parents and Community members have the ability to effect change within a community and within a school. I think these three interest groups are frequently left out of the debate for education reform and the documentary directed by Susan Zeig, A Community Concern highlights the work of these individuals and groups as they advocate for themselves, their students and their schools.
After attending a screening of this documentary I heard from a few organizations within the city of Philadelphia that are beginning to effect change: The Philadelphia Student Union, Teacher Action Group and a Parent-Teacher Group from a local elementary school. The Philadelphia Student Union empowers students to have a voice in their own education and the Teacher Action Group, focused on positive school transformation, partners with students, parents and community groups to effect change. I was impressed with the voices I heard and with the work that is being done. It is imperative that students, parents, educators and community members are on the same page if we want to build power and make public education meet the needs of our youth.
It was motivating to be part of the conversation and to hear the successes and the ideas to counteract the failures. People are frustrated with waiting for change from the top down- especially when we can make change happen now. I am eager to build relationships and continue these conversations.
Michelle Rhee has jumped on this bandwagon and founded Students First: A Movement to Transform Public Education. This organization is asking for input from not just Educators but from Students, Parents and any Members of the Community. Each person now has the opportunity to voice concerns about our Public Education System and share solutions. The organization speaks directly to students:
Students play an essential role in the movement to transform education. All our work is for you, the future of our country, and that's why we need your support. Talk to your parents about what's working in your school, and about which teachers or programs you enjoy. And talk to your friends, your teachers, and other people in your community, and tell them why education reform is important to you.
There are student groups forming on Facebook where students have the opportunity to collaborate and problem solve and these groups serve as a space for students to share their stories- there are actually over 32,000 people who have "liked" Students First on Facebook.
We know how hard you work to ensure the best possible education for your children. But beyond the parent-teacher conferences, the PTA meetings, and the help on all the homework, we believe that you can play a critical role in transforming the special interest politics that keep your kids out of the most successful schools. If we band together, we can change the way politicians, courts, and school boards handle education policy and ensure that all our kids have access to excellent schools.
Parents are given the chance to share their stories and communicate and collaborate with other parents to help reform the education system. There are even groups for grandparents.
Students First directly links to the findings from the documentary A Community Concern – we need to hear all voices and Students First eases ones transition into the debate and provides a user-friendly space for national sharing and problem solving. We read the headlines, watch the news, and hear the politicians and advocates- we have a lot of work to do and our failing education system affects all of our children, all of our communities, and our entire country.
I know Michelle Rhee has received a lot of negative press but I believe her fierce attitude and no-nonsense work ethic are necessary on our side of this fight. I whole-heartedly think she is on our side, which is the side of the students. Personally, I am signing up today.
Additional organizations within Philadelphia that are working to reform education- GET INVOLVED!
**If you are not in Philadelphia and want to make an impact in your school system please just quickly google education reform groups within your area or nationally (Student First is a National Organization)- I generated the above list in a matter of minutes.
About the Author
Julie Anderson is a teacher and a graduate student in Philadelphia, PA. She has been teaching and designing curriculum in public and charter schools in urban and rural settings for the past 5 years.

Throughout her career thus far she has seen strengths and weaknesses in the public education system and continues to look outside of the box and outside of the classroom for innovative ideas.